Real Estate Liquidation and Revitalization Business
New possibilities for the value of the real estate property Building a culture that leads to the future
The Real Estate Liquidation and Revitalization Business, which is the foundation of our business, is a business that finding new possibilities in all real estate values, and providing them to individuals, companies, investors, funds, real estate agents, etc. after the real estate value has been raised. The format and style is based on the abundant knowledge and experience, and the know-how backed up by diverse networks, and we will then examine the real estate acquired through renovation, conversion, leasing, marketing, management, etc. according to the characteristics of such area and needs from all angles, and implement a total solution for the real estate that maximizes its value. Since we consistently deal with a wide range of real estate from business real estate to residential real estate such as single-family homes, etc. which should be called social assets to become "Liquidation and Revitalization", social contributions will be made by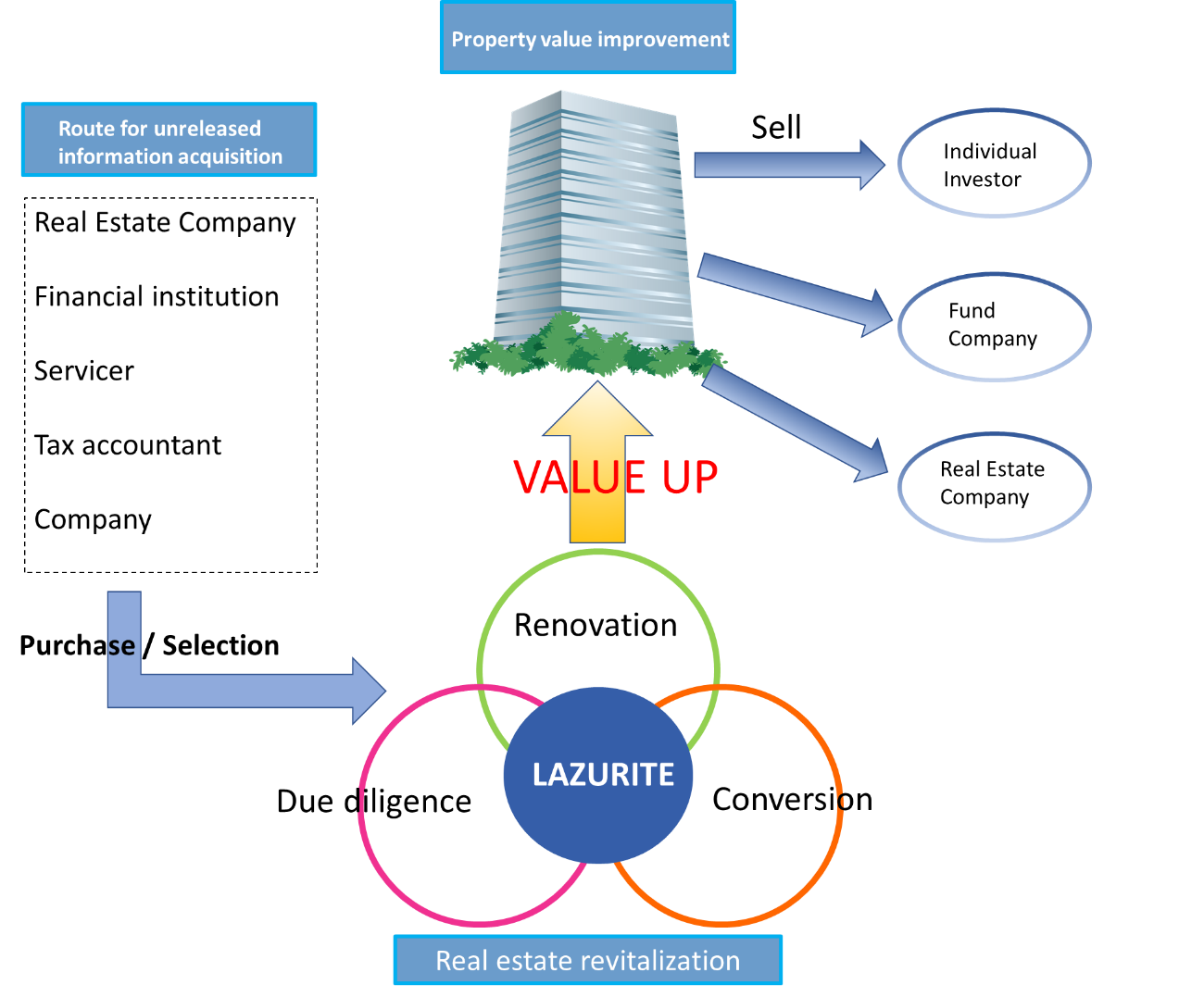 Real estate consulting business
The fastest and accurate consulting Having full support from Real estate professionals
We will respond to the real estate needs accompanying the recent advancement and diversification by providing our customers with the one-stop service.
While considering for the effective use in condominiums, buildings and idle land where the occupancy rate is low, every plan is thoroughly reviewed to see if it is feasible, low in risk and profitable. We conduct marketing research (property characteristics, regional characteristics, legal regulations, and relationships) and do market analysis of the targeted real estate. Then, we will present the drafts of measures plan, effective utilization plan, business balance plan according to the needs of our customers, and by repeatedly making improvements to the effective utilization plan through in-depth discussions with customers, we propose the use of real estate that generates profits commensurate with the value that the real estate originally possesses, so as to provide high value-added consulting that puts customer interests first.